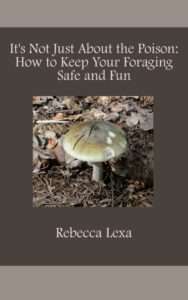 By Rebecca Lexa
2023
23 pages
If you thought the only danger associated with foraging was eating the wrong mushroom or berry, think again! While foraging is growing in popularity, foraging guides often focus more on listing edible plants and fungi than practical considerations like safety. This chapbook is a detailed look at how foraging can go wrong–and what to do about it. Topics include:
Risks Associated with Foraging
How to Mitigate All Those Risks
Before You Eat That…
If Something Goes Wrong
And More!
Consider this book a complement to your field guides and other foraging books. While it won't absolutely guarantee your safety out in the field, it's a good starting point to assessing and preparing for potential issues before they happen to you.
To purchase a signed copy of the paperback edition of It's Not Just About the Poison with first class shipping (US only; contact me for international rates to your country), click the button below:
To purchase a PDF ebook of It's Not Just About the Poison, click the button below (I will email the ebook to you manually; you should receive it within a few hours depending on how far away from the computer I am.)