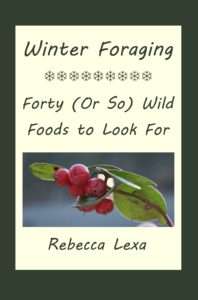 I am pleased to announce the release of my very first quarterly ebook! Winter Foraging: Forty (Or So) Wild Foods introduces over three dozen edible plants and fungi in the United States. If you're looking for some inspiration to get you outside during the coldest months of the year, here you go!
You can purchase the paperback or ebook here–or, if you want the ebook absolutely free, just sign up for my monthly email newsletter:
And I'll be releasing a new ebook every three months, so you'll get each new one sent to you as long as you stay subscribed!