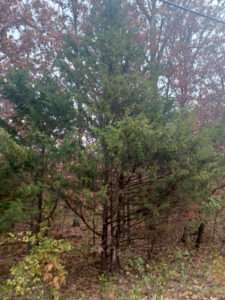 I wasn't always a Northwest kinda person. I originally grew up in the Missouri Ozarks, mostly in Rolla, surrounded by farmland swiftly being chewed up into yet another subdivision. But there were patches of woods and fields left for me to explore. Often it was disturbed land being taken over by eastern red cedar (Juniperus virginiana) and a host of invasive species. But further away from home I saw remnants of vast white oak forests and savannas.
Being rather sheltered in a not-outdoorsy family, and not having much in the way of friends, I didn't have much opportunity to explore the local ecology in person. So I have this odd mishmash of Things I Know about where I grew up, and a whole bunch of Things I Don't Know, too. Now that I'm coming back to visit this place periodically with more knowledge and skills, I'm taking the time to fill in the blanks as quickly as I can.
One of the ways I've been able to reconnect with this place is by volunteering with the Ozark Rivers Audubon Chapter whenever I'm in town. They have a beautiful 70-acre nature center on the northwest end of town, and in spite of its size it features five distinct habitat types–oak savanna, upland oak/hickory forest with some shortleaf pine (Pinus echinata), a dolomite glade, tallgrass prairie, and a lovely little spring-fed stream with riparian habitat on either side. A trail system allows visitors to explore this wonderful array of habitats.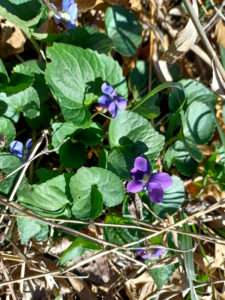 When the weather is good, you can find volunteers out working on habitat restoration and other projects around the center. This includes significant numbers of students from the Missouri University of Science and Technology (which was the University of Missouri-Rolla back when I was working on my Bachelor's degree there–one of maybe fifty English majors at a STEM-focused campus!) The coordinators are always open to drop-in volunteers, so if you find yourself in the area, check the bulletin board on site for information about upcoming volunteer events, or check their Facebook page.
Earlier this month I was in town, and dropped in for a volunteer event. It was a potpourri of maintenance and upkeep efforts, with volunteers adding wood chips to trails and clearing blockages from drainage systems, among other tasks. I ended up being directed to wage war on some of the invasive plants plaguing the riparian area near the picnic shelter. In addition to a Pullerbear–which, along with the very similar Extractigator, is one of my main tools at home for yanking up Scotch broom  (Cytisus scoparius)–I was given a new toy to play with.
Rogue Hoe isn't just inspiration for a great band name. It's also become my new favorite thing for invasive species removal. Specifically, I got to use their hoe/pick combo, with a 48″ ash handle. Now, it may just look like an undersized mattock, but let me tell you–this thing is far superior. It's much lighter, weighing in at about three pounds. And the shorter, more slender head is a lot easier to manipulate into tiny areas where you might have an invasive plant growing right next to a native one you want to keep, or right underneath the root system of a big ol' plant you want to get rid of. If you need to dig out a bigger plant and the extractor isn't budging it, or you have a slender plant that you worry may break if you pull it, you can use the Rogue Hoe to loosen the soil around the roots.
Oh, one more cool thing about it–Rogue Hoe makes their tools out of recycled agricultural disc blades! Can't go wrong with sturdy and green.
So with the Rogue Hoe and Pullerbear in hand, I set about seeing how deeply into the riparian zone I could get myself, systematically yanking invasive plants as I went. The most numerous was some sort of privet (Ligustrum sp.) But unsurprisingly I found not one but two species of invasive honeysuckle, bush (Lonicera tatarica) and Japanese (Lonicera japonica).
Because spring growth is just getting ramped up, there were tons of little bitty new plants, plus some one to two year olds. These were easily dealt with with the Rogue Hoe–chuck the wider end of the blade underneath the roots like you would with a mattock or hoe, then pull the entire plant up–often bringing other invasives like non-native grasses along for the ride. Bigger plants got the Pullerbear, with a slow but steady pressure that levered them right out of the soil. Over a period of a little under two hours, I managed to make a respectable pile of weeds.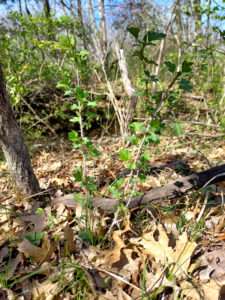 And I made it all the way to the little stream! I wasn't able to completely clear a section of the bank, but I flagged a few larger privet and bush honeysuckle that were just too much for me to take on myself. While I was grubbing around in the underbrush looking for new privet growth, I managed to find a few nice little gooseberries, probably Ribes missouriense, along with some common blue violets (Viola sororia) just popping up. Standing back from the area I'd cleared, I could definitely tell there was a difference.
I wrapped up the day by getting an impromptu tour of some of the native wildflowers in bloom with the manager of the nature center. It was a great chance to fill in some of those holes in my knowledge of Ozarks native flora, and nice to have a little time there that wasn't spent working.
The afternoon went by all too quickly: I really do have fun with invasive plant removal, even more than getting native plants in the ground. But it also made me a bit homesick for Washington, and Willapa NWR, and all the work that still needs doing there. It's okay, though. No matter where I go, there will always be someplace that can use my help, and people working toward a better world who welcome another pair of hands.