Now that the weather has cooled down over much of the United States, insects have died back or gone into hibernation for the winter. So you may be tempted to be glad that the mosquitoes have disappeared for the time being. Maybe you even wish they wouldn't come back next year! After all, they're just mosquitoes, which annoy us and spread diseases, right? What are mosquitoes good for, anyway?
Much to the surprise of a lot of people, they actually have some pretty important ecological functions, and your local ecosystem would likely suffer if the mosquitoes were all exterminated. So today, I am going to be a mosquito apologist.
What Are Mosquitoes Good For? Food!
You may have seen hundreds or even thousands of mosquito larvae swimming in a pond or other fresh water. Perhaps you thought every single one of them came to find you after they became adults! They certainly are prolific; some species can lay as many as 300 eggs at once.
But this isn't just because they want to have more young to annoy you, generation after generation. Rather, it's because a lot of mosquitoes end up eaten before they even get a chance to reproduce. As eggs and larvae, they're food for fish, amphibians, and aquatic insects and other arthropods. Once they take to the wing, birds and bats become major predators, as do adult dragonflies and other winged insects, plus spiders that catch them in their webs. While a single bat might not actually eat 1000 mosquitoes in a night, all those various predators do take a significant chunk out of the mosquito population.
What Are Mosquitoes Good For? Pollination!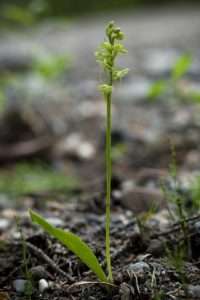 Believe it or not, most mosquitoes aren't out for your blood! The majority of mosquito species are entirely vegetarian; it's only a few in which the females seek out blood to help produce eggs. Most mosquitoes drink nectar or plant sap, and in the pursuit of the former they play a vital role in pollinating the flowers they visit. Goldenrod and orchids are just two examples of groups of plants pollinated by mosquitoes. And while mosquitoes might drive Alaskans buggy, they are vital for pollination during the short Arctic summer.
What Are Mosquitoes Good For? Keeping Things in Check!
Mosquito larvae spend anywhere from a few days to a few weeks in the water where they hatched. They feed on a variety of bacteria, algae, and other microorganisms. Because they have a lot of growing to do, and need to prepare for their final molt to adult form, they have to eat a lot! That means they help keep their prey species' populations in check. An overgrowth of algae, for example, can reduce the amount of sunlight that submerged plants have access to, and as the algae dies it increases the amount of nitrogen in the water. By constantly grazing on algae, mosquito larvae are helping to prevent these sorts of ecological imbalances.
What If We Made Mosquitoes Go Extinct?
So what are mosquitoes good for? Quite a lot, apparently! However, there's no denying some species have also caused us a lot of grief. There have been calls to exterminate all mosquitoes, or at least every species that could ostensibly cause us problems through disease transmission. And to be sure, I don't want to see people dying of malaria or West Nile virus, especially as these diseases often hit disadvantaged populations harder, with fewer resources for treatment. But it's something where we need to weigh the consequences carefully.
What would happen if there were suddenly no more mosquitoes? Sure, the animals that prey on them could potentially find other sorts of food, but there would be an upset in the food web as the predators put more pressure on remaining prey species, which could lead to some of those species become locally endangered or even extirpated. Or the predators might drop in number as they failed to find enough food. Either way, getting rid of all the mosquitoes would have a negative impact on the food web.
Finally, and possibly most importantly–we may not fully understand the ecological roles mosquitoes have. As I wrote recently, ecosystems are incredibly complex networks of relationships among thousands of species, and for centuries we have been eradicating entire species without any thought as to what long-term effects their loss might have on their native ecosystems.
Invasive Mosquitoes
However, that brings up another point: the fact that there are invasive mosquitoes. Invasive species wreak havoc on ecosystems they're introduced to, and it just so happens that one of the most notorious disease-spreading mosquitoes, Aedes aegypti, is invasive across much of the tropics, as well as subtropical and temperate areas worldwide. Spread through the slave trade, this mosquito is a prime vector for yellow fever, dengue fever, Zika, and several other pathogenic diseases affecting humans. Its cousin, Aedes albopictus, is also a disease vector and is more cold-hardy, meaning it could spread even further.
What's the answer? Well, historically people just drained wetlands, much to the devastation of the native ecosystems there. More recently, the widespread and indiscriminate use of pesticides like DDT also knocked back mosquito populations (at least temporarily), but also killed off many other animals both directly and indirectly, to include nearly wiping out multiple raptor species due to eggshell thinning. Moreover, mosquitoes have developed resistance to pesticides, making them a less useful tool overall.
More recent innovations to control specific invasive mosquitoes hold some promise. A. aegypti, for example, has been genetically modified in labs to create a strain known as OX513A. Not only do the offspring die before they can reproduce, even if a OX513A breeds with a wild mosquito, but the offspring also apparently lack resistance to some pesticides. Biological control using Wolbachia bacteria inhibits A. aegypti's reproduction, and also makes them unable to carry certain diseases such as Zika and dengue fever.
So it would appear that the fight to control invasive species also has the bonus effect of stopping the mosquitoes most likely to give the rest a bad name.