It's mid-November, and the saffron milkcaps (Lactarius deliciosus) are still fruiting like there's no tomorrow! I've found two flushes in the past few days, one of which was in a place I've never seen them before. So not only do I have a giant basket of mushrooms in the fridge, I have a new foraging spot for my favorite edible mushroom. And since I had an abundance of them, I decided to try something a little different: wild mushroom tarts.
I'm not as great a baker as I'd like to be; even though I've made countless loaves of bread and pies and other baked goods, I still can't seem to get them as nice as the ones I see on social media. (I even watched every single episode of The Great British Baking Show!) Practice makes better, if not perfect, so I figured if I used just a small number of my milkcaps and then screwed up the recipe, I'd still have plenty of mushrooms left for other dishes.
The Delicious Lactarius
I wasn't fortunate enough to discover this wonderful mushroom until a couple of years ago, when I discovered a few growing here on the farm. I must have overlooked them their green-tinged caps in the past, or maybe the mycelium wasn't just developed enough to start fruiting yet. Either way, they surpassed even the Pacific golden chanterelle as my favorite edible mushroom, whether added to rice or in scrambled eggs, or sauteed in butter and enjoyed on their own merit.
I've been especially fortunate as there seems to have been a bumper crop of them this year. In addition to my shiny new Lactarius spot, many of my existing patches seem to have expanded quite a bit. This means that the freezer will be receiving some of the overflow, but I have been making sure to enjoy the fresh fruitings as well.
The saffron milkcap is incredibly distinctive, with its bright orange gills and stipe; the topside of the cap starts out the same color, but turns green with age and wear. It is also a bruising mushroom, and some of the green is a result of that. It gets its name because when broken, the fresh mushroom may leak a little milky fluid. Milkcaps have a crisp texture that I absolutely adore, though older mushrooms are softer, and I generally leave these to finish out their spore cycle and decay back into the earth. It is one of several fall mushroom species that have mycorrhizal relationships with the shore pines (Pinus contorta var. contorta) that grow in abundance here.
Unlike most edible mushrooms in the Pacific Northwest, this one is actually native to Europe, though it has been introduced here and other places in the world. Fun fact: when the town of Herculaneum in Italy was being excavated almost two thousand years after being buried by Vesuvius, it revealed a fresco featuring mushrooms that are thought to be saffron milkcaps. This makes it one of the earliest fungi known to be depicted in art!
Wild Mushroom Tarts Recipe with Saffron Milkcaps
As usual, I am not great at writing recipes, but I'll do my best to explain how I created these lovely savories. (Apologies, I'm a naturalist, not a food blogger!)
For the filling, I started with ten saffron milkcaps of assorted sizes, and sliced them into roughly 1″ – 2″ pieces to make about two cups of sliced mushrooms, and then chopped half a medium sized onion. I melted four tablespoons of butter on medium high heat, and then tossed the mushrooms and onion into a pan with two heaping spoonfuls of garlic. I sauteed them, stirring frequently, until the mushrooms were just cooked through and the onion was translucent, and added in a couple small handfuls of flour to thicken the remaining butter and juices. You can add seasonings if you like, but I find the onion and garlic do a pretty good job of adding flavor without overwhelming the mushrooms.
While I waited for that to cool, I made a batch of pie crust using the following ingredients:
–2 cups sifted flour
–1/4 tsp salt
–3/4 cup lard (you can also use shortening)
–2.5 Tbsp cold water
–1 tsp white vinegar
–One large egg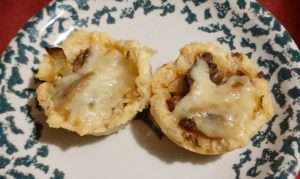 Sift the flour and salt together in a large mixing bowl, then add in the lard or shortening with a pastry blender. (I also use my hands as needed to really get it mixed well.) Then mix in the water, vinegar, and egg, again using hands if need be.
I sprayed a muffin pan with cooking spray and then lined the cups with dough; since I was doing this by hand without breaking out the rolling pin the crust ended up a bit on the thick side, but this wasn't a terrible thing. I would line three at a time, and then add in the filling; with the proportions above I had just enough filling and dough for ten open-topped tarts.
I had a few pieces of Swiss cheese leftover from making stuffed boletes a couple weeks previous so I topped the tarts with that. Then into the oven at 350 degrees for half an hour, and voila–wild mushroom tarts, ready for the table!
Did you enjoy this article? Check out my posts for more mushroom recipes, foraging tips, natural history, and more. And hey, if you want news and updates–like when I'm going to offer in-person classes and events–scroll down to the very bottom of the page and sign up for my monthly email newsletter so you'll be the first to know!